St Mary's, Manly will offer your child not only a caring and nurturing environment but also a place where every child is known and a personalised approach exists in catering for individual needs.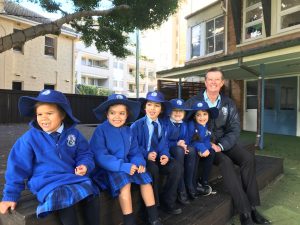 St Mary's is a small school where relationships are valued and nurtured. Students, parents and staff have positive relationships which enables a strong culture of collaboration, partnership and friendship. Students have such positive role modelling in their social development and this is reflected in their interactions with each other and staff.
We firmly believe in providing our boys and girls with innovative and inspirational education from Kindergarten through to Year 6. An education that delivers:
A balanced curriculum – encouraging real problem solving and creativity
Opportunities for life long learning focusing on skills such as positive communication, team work and a growth mindset.
Authentic pastoral care – St Mary's is a 'Be You" School which supports the values of respect, compassion, trust, courage, honesty, service and hope.
Effective Positive Behaviours for Learning Program
Genuine opportunities for parent participation. Parent voice is valued.
A strong sense of social justice and community outreach enabling a strong sense of 'other'.
A range of modern technologies to integrate into our learning and teaching methods for 21st century learning
An extensive student leadership program which develops outstanding senior role models who care, nurture and role model to younger students.
A broad selection of extra curricular activities
Before & after school care on site with carers that are connected to the school
So, if you are looking for a school which has firm family based community values and develops a strong sense of other, then St Mary's is a wonderful choice. Due to the the size of the school the staff knowtheir students!
Contact us now to book a tour, enrol or request further information.
Mr. Paul McGuire
Principal
Online Enrolment Enquiry Form